This week I got to meet and talk to more of my classmates as well as my teachers. In the Translation Masters group we are quite an international bunch with students from China, Japan, Indonesia, South Africa, Egypt, Poland, Canada, Brazil, Italy, of course Ireland … (and Middlesbrough). And on Saturday my wife and I actually hung out in town with a few of my classmates for the day, which gave me the opportunity to get to know them a bit better. I believe that several modules require us to work in pairs or groups on assignments, so friendly relations are essential!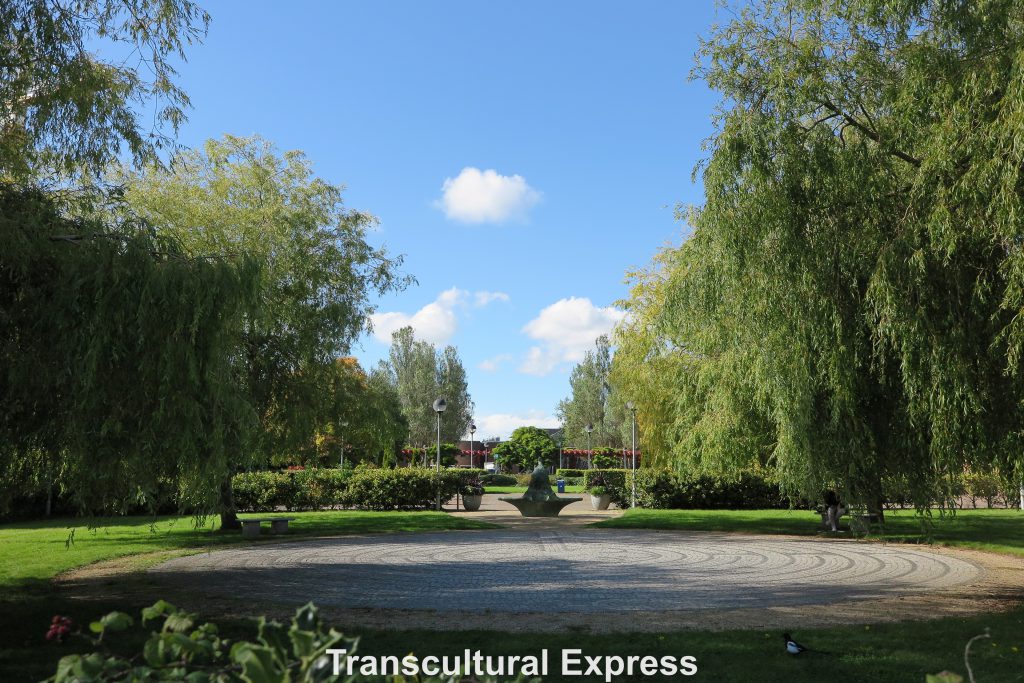 Jittery Beginnings…
My first week of lectures in Translation Studies got off to a faltering start with the first three lectures either cancelled or deferred. Monday morning I was meant to have a session in Translation Technology, but this seems to have been put off till a later date (I'm still not sure when… or if). Two alternative (or perhaps complimentary) reasons were given for this:
a) The teacher is abroad giving a viva (oral examination) for someone's PhD.
b) The course is taught as a series of units which consist of an introductory lecture followed by a practical lab session. However, the order is reversed on the weekly schedule (labs on Mondays followed by lectures on Thursdays) so we needed to start with our first lecture on Thursday.
As for my first Advanced Japanese classes on Wednesday, the teacher emailed us the night before to tell us she couldn't be there for "various reasons". Instead of class we were set a writing task in preparation for lectures the next day. Actually I found this writing task quite useful, and was glad I had the leisure to work on it at home rather than in a classroom, but more about that later.
Although this hesitant beginning doesn't create a great first impression, I think it's too early to pass judgement. We have been told that our timetables are fairly fluid in the first three weeks of term until things settle down, and so we need to expect changes to our both our schedule and location of classes.
Translation Technology
"existing translations contain more solutions to more translation problems than any other available resource"
– Isabelle et al., 1993
My first lecture on Thursday was on Translation Technology and given by Professor Dorothy Kenny. She gave us a simple overview of the course: for the next five weeks we will be working on Translation Memory (TM), and after that the course will move onto Machine Translation (MT). At some point in Week 3 or 4 we will be put into pairs for an assignment with TM. Towards the end of the semester we will also be set an essay assignment.
Professor Kenny then gave us some historical and contemporary context for our topic, explaining how the nature of translation has changed as society has moved from the industrial age of print media, to the information age of digital media. Modern technological tools now enable translators to mine data from previous translations, and recycle or reuse this data to speed up the translation process and improve its consistency and quality. As the job becomes easier though this technology has also impacted on the price a translator can charge for their work.
We have to pick up a lot of terminology for this module. I'm just going to dump a bunch here for my own personal record, but if you scan through it, you can probably get a grasp of what this course is about.
ICT – Information and Communications Technologies
TEP – Translation -> Editing -> Proofreading
MT – Machine Translation (for example Google Translate)
TM – Translation Memory: a database of previously translated source text segments aligned with their individual translations
TM Tool – software used to aid the translation process. A TM tool builds & manages translation memories & retrieves useful matches.
A segment – In TM a "segment" is a sentence, heading, or list member that has been previously translated and can be reused or recycled in a new translation.
Translation Unit – the source text (ST) aligned with the target text
internal repetition – when something is repeated in a single text
external repetition – when something is repeated in two or more texts
propagation – the process of applying a confirmed translation from one segment to other segments in the same text with similar source content
TRADOS – TRAnslation & DOcumentation Software – a particular brand of computer-assisted translation software that we will be using during this course.
CAT – Computer-aided Translation
ST – Source Text
a "fuzzy match" – when a matches in computer-assisted translation are less than 100% perfect
sim-ship – The simultaneous shipment of a product or service in multiple languages
EMT Network – The European Masters in Translation Network (of which my course is a member) has established a series of competences for professional translators among which technological competency is seen as essential.
GILT: an acronym for Globalization, Internationalization, Localization and Translation; processes that are important when providing language services for companies who wish to sell products and services in the global marketplace.
This was a good solid introduction to the course and gave me an idea of what to expect in the coming weeks.
Advanced Japanese
This course is taught by Dr Ryoko Sasamoto. I am the only Translation Studies student taking Advanced Japanese (there are two Japanese nationality students on the course, but obviously they don't need lessons in their own first language), so except for myself all the other students are undergraduates who have just spent a year studying in Japan. Instead of classes on Wednesday we were set a writing assignment in which we reflected on our time in Japan (20 years in my case!) on what our goals were previously, on what we have learned or failed to learn, and on what we want to achieve over the coming year. I found this task quite useful as even in the act of writing in Japanese (something I rarely do) I could see where some of my weaknesses lay. We were also given the opportunity to make our own personal study plan. This forced me to think about what would be best in practical terms for me to work on over the coming months. Clearly in this module the onus is on each individual student to take responsibility for their own learning, a policy I wholeheartedly agree with.
The written assignment was the basis for classes on Thursday in which we were also given an overview of the course, as well as short one-on-one talks with the teacher in which we could discuss best strategies for future learning.
All the other modules I am taking are assessed on coursework, but Advanced Japanese is based 40% on continuous assessment, and 60% on examination. This semsester's coursework assignments are as follows:
1. A peer-reading note
2. Evidence of independent study (Japanese – 5 minutes a day!)
3. 2 x submission of independent work
4. A reflective Statement (week 12)
All of this work will be submitted online as is common with other modules and used to build up an online portfolio of work. Here are the details…
1. In peer-reading two students choose a text to introduce to the class and then lead a discussion based on that text. Following the discussion the students write up a report.
2. For 'Japanese – 5 minutes a day!' students spend 5 minutes a day on one aspect of the language for 3 weeks. Three aspects are covered over the semester:
• Vocabulary building / Kanji learning / grammar revision
• Pronunciation training
• Speed reading / reading for gist
However, it looks like my 5 minutes a day will be somewhat different from this plan. More about that below.
3. Independent work will be submitted in weeks 6 and 12 as two written reports with subjects taken from the following fields:
* politics & current affairs in Japan
* "What's popular now in Japan?"
I think the first one will be easier for me…
4. The Reflective Statement is an audio recording submitted online in which you reflect on your progress over the course of the term.
I was nervous going into these classes as I am the only postgraduate student, and as all the other students already know each other very well. However after speaking to some friendly students during and between classes I felt much more relaxed about it. In my one-to-one talk with my teacher, she told me that I didn't need to set myself the same "5 minutes a day" tasks as the other students, but could pursue individual studies best suited to my translation course and to my own level and needs.
Currently I am thinking about:
* Taking an online course in preparation for the Business Japanese Proficiency Test as this will help me with weaknesses in formal and polite Japanese registers.
* Watching a different Japanese movie three times each month to help with my listening ability. To help with my writing ability I could then follow up with a written report summarizing each movie and give my opinion on it.
* Reading daily business news articles on both Japanese and English websites of the same news networks so as to build up a vocabulary base for another module in my course: Economic Translation.
However, I'm still thinking about how I can practically fit all of this into "5 minutes a day".
Japanese Economic Translation and Computerised Terminology
On Friday I had lectures in two separate modules: Japanese Economic Translation, and Computerised Terminology. Both of these modules are taught by Dr Patrick Cadwell. I was really impressed by this teacher and speaking to some of the other students later I found that they agreed with me. He is clearly very organized and presents each topic in an animated, and enthusiastic manner, eliciting ideas and encouraging discussion from the students. Though I don't know much about economics as a topic, and zero about computerised terminology, by the end of each lecture I was really excited to be taking these modules and eager to learn more.
Japanese Economic Translation
This class has a mixture of undergraduate and postgraduate participants. In the first session we were given a general overview of the course and what is expected of us. I'm actually just going over the course assignment schedule as I write this post, and this looks like it is going to be a fairly rigorous course with lots of translation work to complete! Topics to be covered are:
* International trade
* Economic reform
* Economic law and corporate legal compliance
* Taxation
And this is what we should be able to do by the end of the course.
* Translate semi-specialised texts at an advanced level from Japanese into English
* Select suitable texts for background reading
* Generate glossaries
* Write grammatically correct, natural English sentences, which are stylistically appropriate to the context of the text
* Critique published Japanese / English translations
In the second session we read both an English source text and its Japanese translation and then discussed the differences in our groups. One key point that came out of that is that we really need to be careful when translating names and numbers.
Computerised Terminology
"This module introduces students to the theory and practice of terminology, and gives students hands – on experience of contemporary tools used in terminography, including terminology management systems, term extraction tools, and corpus processing tools."
And that's pretty much all I want to say about that one at present. Though we did enjoy a very interesting first lecture on the topic of Lexicography, I think that topic deserves a blog post all of it's own.
See also: First Day at School – Postgraduate Orientation at DCU