This week we got deeper into Trados, received our first Translation Technology assignment, learned more about the scary patent assignment in the Terminology module, had a very special guest lecturer in Advanced Japanese class, and in our Economics Translation module we learned which nations are the strictest about translation.
Also while reading Translating Japanese Texts
on the bus, I picked up the interesting tidbit that the word "text" comes from the Latin texere meaning "woven". So there you go.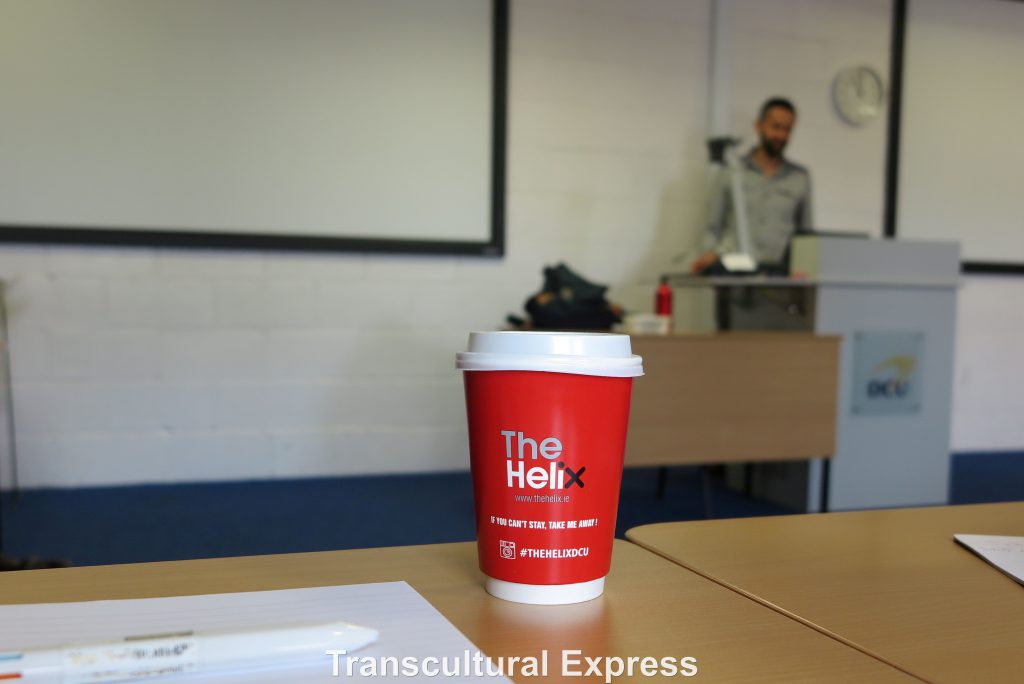 Translation Technology
The Levenshtein distance (also called the "edit distance") between two texts is the minimum number of operations (deletions, insertions, or substitutions) needed to transform text 1 into text 2.

In our Monday morning Lab with Trados we practiced using a previous translation memory to translate an updated version of the same document, and also worked on integrating machine translation into a translation memory tool. At least that was what was supposed to happen. I actually had a lot of problems and inexplicable glitches that meant I couldn't get much done in this lesson and had to go back to the lab and work through the material on my own. Apparently, something goes wrong with Trados every year that they do this course, but they still teach it because it is the most commonly used TM software.
In our Thursday morning lecture we had our first class with Dr Joss Moorkens. He delivered a fairly fast-paced talk on working with Translation Memory, its benefits and drawbacks, issues with segmentation, matching, alignment, and using "penalties" to help you judge the trustworthiness of specific translation memories. He also recommended some online reading (see the Translation links I have added in the side column) with Nora Diaz and Jost Zetzsche recommended especially for their advice on using Trados. The second part of this lecture dealt with the rise of crowdsourced translations both in their negative and positive aspects.
This week we were also set our first assignment for this module in which we will use Trados to analyze and translate a series of weather forecasts, while editing the target text to make the ongoing translation process smoother. At the end of the exercise we should have a series of tips for language standards that we can pass on to the forecasters, and a 1,500 word report on the whole process (including academic references) which will be worth 50% of the credits for this course. So that'll be fun. After a brief search through the literature I think this seems to be an exercise in using Controlled Language (CL) with translation memory. I also think I am going to download the student version of Trados so I can do this at home.
Advanced Japanes
e
This week we practiced writing a Japanese style résumé, or 履歴書 (rirekisho). These are very fixed and rigid in format with specific boxes that have to be filled out in a particular way. You can find examples and instructions for Japanese resume writing
here
. I hate writing my resume in English, never mind Japanese, but the end product actually looks pretty good and I may actually make use of it in the future.
In the peer reading class two students shared with us an article about the coming retirement of J-pop diva,
Amuro Namie
. Surprisingly there were a fair few vocabulary items and kanji that I didn't recognize in this piece, so it was a very worthwhile reading exercise! We also had a special lecture from a visiting professor this week but more about that below.
Japanese Economic Translation
In this lesson we received feedback on our first mini-assignment which was an exercise in spotting the differences between an English source text and its Japanese translation. We then practiced taking notes of the key points in a Japanese news broadcast and translating that into English. Things we should watch out for are:* details related to numbers
* checking style guides for how numbers should be rendered
* the translation of official titles
* the use of = in Japanese headlines to represent "says"
* the number of paragraphs
* permissions, licenses and copyrights (especially for images)
Useful language items:
意見の相違が見られる – there is a discrepancy in opinions
とする – to assume
ものの – although
~かねない – be capable of / might happen (usually for a negative situation)
After a brief introduction to the topic of translation quality assessment, it came up that Japanese and German clients tend to be the strictest about translation accuracy and the least strict nationalities are Spanish and Irish!
Computerised Terminology – Characteristics & Systems of Concepts
This week we were introduced to the General Theory of Terminology (GTT) and its primary concerns:
* the formation of concepts and their organization into systems of concepts in specialized fields
* the labeling of concepts with terms
* the facilitation of international trade, technology and communication through the standardization of these concepts and terms
The standard method of organizing terminology is to move from recognition to categorization:
* pick out a subject field
* pick out the properties of objects in that subject field (such as their function, material, shape, and color)
* abstract those common properties into characteristics
* put the characteristics together as a concept
Two important (and interdependent) terms that we learnt in this lesson are intension and extension.
Intension: the internal set of characteristics (e.g. abdomen + thorax + head + six legs) which together make up or define a concept (e.g. insect)
Extension: the applicability of a generic concept (e.g. insects) to all specific concepts (e.g. ants, bees, and butterflies)
My brief synopsis of this lecture may seem dry, but actually this was a lively and entertaining session in which we debated the essential and delimiting characteristics of sweaters (and cardigans), and determined that the Asian elephant has (relatively) small ears. It is also very relevant to our huge-big-scary-assignment for this module in which we will be examining patents for interesting terms and using them to build our own concept systems and MultiTerm termbases (wow!). Alarmingly, this assignment is worth 100% of the credits for this module – and this module is worth a whole lot of credits. Our teacher did tell us though, that people usually do well with this assignment, largely thanks to his teaching I imagine. Oh and two more terms I need to remember:
hypernymy – the state or quality of being a hypernym or superordinate (a generic class which contains a set of subcategories)
hyponymy – the subordinate relationship between a specific instance of a term (hyponynm) and its generic class (hypernym)
Special Lecture
"Japan is different in a different way" – from Mokusei!
by Cees Nooteboom
On Thursday evening the students taking Advanced Japanese were treated to a special lecture from Irmela Hijiya-Kirschnereit (Professor of Japanese Literature at Freie Universität Berlin). She is a really big cheese in the world of Japanology and translation too. The good professor gave us a sweeping talk that covered the whole history of Japan's relationships first with China and then with the "West". I was impressed that she managed to keep our full attention riveted for almost an hour while simply sitting at a desk and reading aloud from her papers. There were no slides, no powerpoint presentations, and no animated jumping about or posing questions to the class. She simply delivered her words in a calm, composed style – but it was quite a story she had to tell. This from my notes:
In its relationship with China, Japan was sometimes described as a "younger brother", or as the reflective moon to China's sun. At other times it was seen as a rival. But "China" for Japan was in reality just a construct of otherness against which, in its selective adaptation of Chinese cultural elements, Japan could measure its sense of own national identity. Japan of course based its own writing system on Chinese characters, and with its kanbun system was able both to write texts in Chinese, and to read Chinese literary texts in Japanese. When Japan encountered the West however, ideas about translation between languages had to be radically revised, as symbols and their meanings no longer coincided. Japan's love/hate relationship with China, was then in some part transferred over to the West. Now Europe (or America) plays a central role for Japan as a mirror against which it measures its sense of self, but the relationship is unequal, as Japan plays only a marginal role in the self-consciousness of Europe. (This idea was somewhat tempered by the notion that "Europe's unease with herself" is partly to blame for the interest in the West in Asian spiritual pursuits like Zen and Yoga.) I was particularly interested to hear that the two foci of Japan's relationship with the West in the late 19th and early 20th centuries were Marxism and Christianity – which were at that time very popular in elite society (but not so much now). Now when we look at East Asia, some will talk about a regional identity bound together by a common script (Chinese characters), Confucian values, and its shared rivalry with the West. But then there are internal rivalries between Japan and China over issues like history textbooks, and disputed islands and shrill assertions of cultural uniqueness. Objectification of the other, "them" and "us" thinking, is used by the insecure to give themselves a sense of power and control. A healthier and more honest approach would be to reject confrontational stereotypes in favor of blurred boundaries, a sense of neighborliness and a willingness to partake in transcultural conversations!
I was particularly pleased that Professor Hijiya-Kirschnereit employed the word "transcultural" in her talk.
See also:
First Day at School – Postgraduate Orientation at DCU
Translation Studies; Semester 1: Week 1
Translation Studies; Semester 1: Week 2