The world is badly in need of translators. Almost nobody denies this. – Martin Kay
This week I made the decision to change one of my optional modules by dropping out of Advanced Japanese this semester, and taking a Community Interpreting module next semester instead. Though the teacher of Advanced Japanese had been trying to persuade me that Advanced Japanese was too easy for me, I still believed that the writing exercises would be useful. However, I found that in practice I was not seeing enough benefits or gains from this module to warrant the amount of time that I was spending on it. Changing my modules will mean I will be a lot busier in Semester 2, but I can ready myself for that by getting some preparatory reading done over the long winter vacation. The immediate benefits right now are a much freer schedule, more time to dedicate to my remaining modules (and their assignments), and a profound sense of relief in having made the right decision.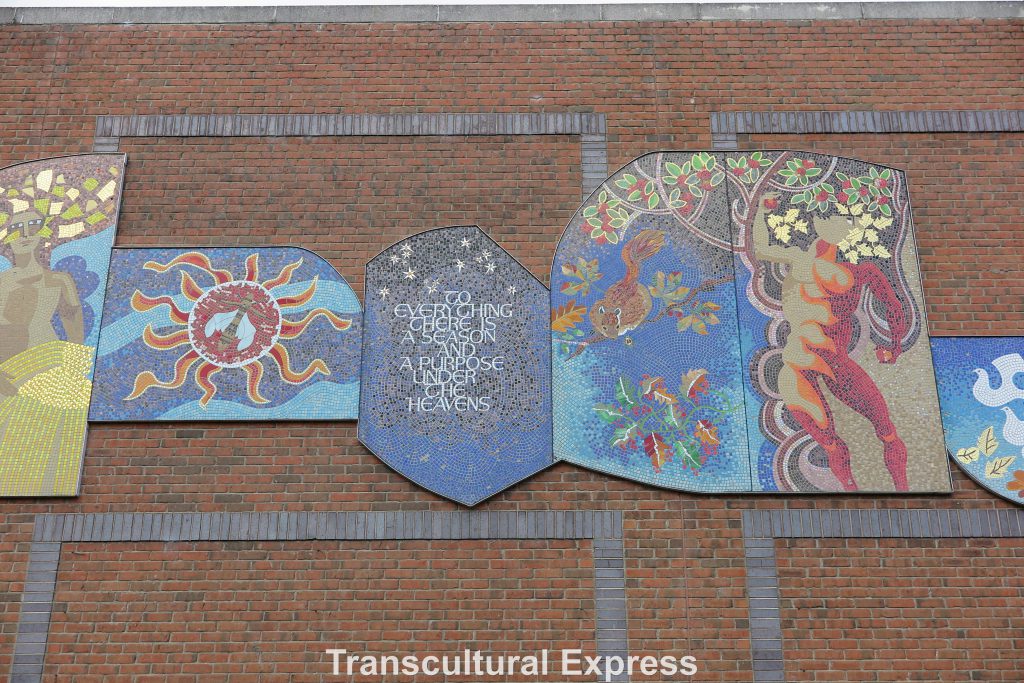 Translation Technology
Known to computational linguists as an "aligned parallel corpus", there are principally three ways of building a TM database: building it up as you go along, importing it from elsewhere, or creating it from a parallel text.
– Translation memory systems by Harold Somers in Computers and Translation: A translator's guide
Creating a translation memory from a parallel text is known as alignment, and this was our task in this week's Monday morning lab. SDL Trados Studio has an a alignment tool (called SDL Trados Align) which you can use to stock an empty translation memory with parallel segments from an existing translation and its original source text. The advantage of doing this, is that you can make use of work done previously even if it wasn't done using a TM tool. I found the task this week fairly straightforward, which was a relief after the unexpected (and largely unexplained) hiccups in the first two weeks of labs.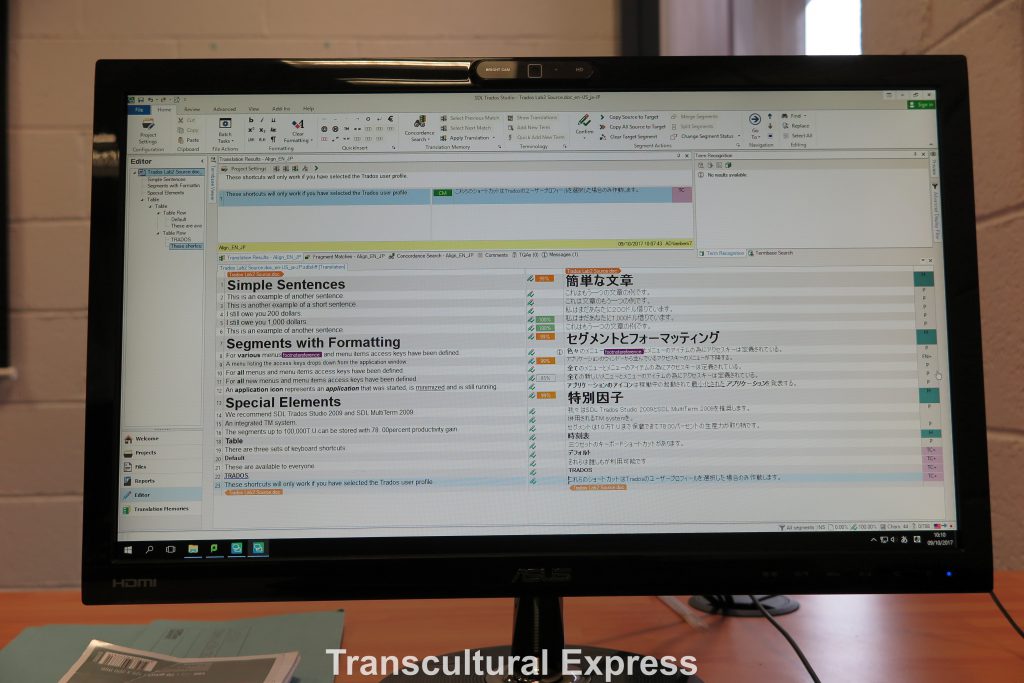 interlingua (noun):
1. An artificial language, devised for machine translation, that makes explicit the distinctions necessary for successful translation into a target language, even where they are not present in the source language.
1.1 (mass noun) An artificial international language formed of elements common to the Romance languages, designed primarily for scientific and technical use.
– Oxford English Dictionary
This week's lecture with Joss Moorkens was a fascinating introduction to the history of Machine Translation (MT). Here are some highlights from my notes:
Throughout history people have sought to overcome language barriers with a variety of proposed solutions: by imposing a universal lingua franca, by creating a new artificial universal language (such as Esperanto), or by seeking some means to make the translation process simpler and faster. In 1629 the philosopher and scientist, René Descartes "described a proposed universal language in the form of a cipher where the lexical equivalents of all known languages would be given the same code number." (see Machine Translation: past, present, future by John Hutchins). Over the following centuries a variety of proposals were made for a mechanized automatic translation process, but these ideas remained theoretical until the mid-20th century. In 1949, the scientist and mathematician Warren Weaver, perhaps inspired by the code-breaking tecnnologies of World War 2, wrote the following in a memorandum to the Rockefeller Foundation:
When I look at an article in Russian, I say "This is really written in English, but it has been coded in some strange symbols. I will now proceed to decode."
This memorandum provided the direct impetus for an intense period of research during the 1950s and 60s into the use of digital computers for machine translation. It is notable that many of those dedicated researchers were inspired by the idea that machine translation would be an aid to maintaining world peace. In 1947 Warren Weaver had written "A most serious problem, for UNESCO and for the constructive and peaceful future of the planet, is the problem of translation, as it unavoidably affects the communication between peoples." Similarly, IBM founder Thomas Watson, speaking of the Georgetown-IBM demonstration of machine translation in 1954, said, "we must do everything possible to get the people of the world to understand each other as quickly as possible". The Georgetown-IBM experiment was the first demonstration of automatic translation on a computer, but it was very limited in scope: a vocabulary of just 250 words, only six grammar rules, and carefully selected Russian sentences which were translated into English. Nevertheless, it did show that machine translation was a real possibility and led to more government funded research. This early optimistic period faced a backlash though, when the limitations of machine translation became more apparent, and in 1966 the Automatic Language Processing Advisory Committee (ALPAC) issued a report stating that machine translation could not compete with human translation and there was no prospect of this situation improving in the near future. Public funding of MT in the U.S. ceased shortly thereafter. It is widely agreed that the ALPAC report was shortsighted and failed to consider factors like the shortage of human translators, the increasing costs of human translation, and future advances in both computer technology and linguistics. Perhaps the biggest flaw of both the early researchers and their detractors however, was an unreasonable expectation of what machine translation could achieve. Since the 1980s there has been a renewed and growing interest in the potential of MT. This is due to a variety of factors including improved technology, the commercial availability of PCs, the rise of the internet, increased globalization leading to more commercial translation needs, and improved analysis techniques in computational linguistics. Along with this renewed interest has come a more realistic attitude that MT doesn't need to be perfect to be useful. Martin Kay in his 1980 essay The Proper Place of Men and Machines in Language Translation spoke of the integration argued for the integration of MT into the human translation process, and in the early 1980s Alan Melby proposed a translator's workstation with which a human translator would be supported by successive levels of technological assistance. Today MT is widely seen as just one of many potential tools available to translators alongside translation memory software, term bases, and concordancers.
This is just a brief and very much abridged version of this lesson's content. For a summary of the major events in MT history see KantanMT's History of Machine Translation Part 1 and Part 2. For a more thorough account, John Hutchin's book Machine Translation: past, present, future is freely available online.
Japanese Economic Translation
Our class this week was mainly a feedback session on our first big translation assignment. We had translated an abridged version of this. Some things that came up this lesson that I should take a note of are:
のたたき台になる – An expression I had some difficulty translating as my dictionary just says "chopping block" but I think I eventually went with "testing ground". Apparently this expression comes up a lot in economics texts, and our teacher suggested the following possible translations: serve as a template, basis for further discussion, working draft.
% or percent? – I fell down on this one in my translation. Apparently, the usual rule in magazine or newspaper articles is use a symbol in the headline, and "percent" in the body of the text.
一致している – Another common expression in economics texts. Suggested translations are: agree, in agreement, in accord, conform, in unison, consistent.
利益 – Can mean "profits", but also "benefits" and in this particular case "interests".
為替操作 – Can mean "currency intervention", "currency operation", or "currency manipulation".
Computerised Terminology
This week we looked at how to graphically represent relationships within concept systems according to standards laid down by the International Organization for Standardization (ISO), we defined the word "definition", looked at a variety of ways to define terms, and settled on some good practice standards for definition writing in terminology:
"Good terminological definitions
* are concise, clear and complete
* state the superordinate concept
* insert the concept into a concept system
* state what the concept is, rather than what it is not
* re-use already defined terms
* do not use words whose definitions refer back to the concept in question (circularity)"
We also submitted proposals for our patent projects, and were told to "forget about patents for a while, and just read". When we submit our reports in December, we need to show that we have read all the relevant texts (and if we want a really good score "extra texts"!!!). This being the case I need to get on with reading M. Teresa Cabré on Terminology
, so am going to cut this short. Below are some more terms that I need to remember:
"Relations between concepts can be:
hierarchical
– logical ("type of"; generic – generic/specific)
– ontological ("part of"; partitive – whole/part)
non-hierarchical (associative)
– sequential
– pragmatic"
Special Library Session
On Friday afternoon we had a special library session which was basically a guide to seeking and finding useful materials. Right at the end of the session though we were introduced to Zotero – "a free, easy-to-use tool to help you collect, organize, cite, and share your research sources". I was very happy about that because it is obviously going to save me a LOT of time over the coming months. And I am downloading it right now.