This week I received my score for the first major translation of the Japanese Economic Translation module. This was actually a very encouraging grade, and much higher than I would have expected. I'm still not at all confident about the technology or terminology modules, but it is good to know I am doing something right.
I also got to play around with this FREE online machine translation tool 「みんなの自動翻訳@TexTra®」 – which I believe was developed by a researcher back in Kyoto for use with translations between Japanese, English, Chinese and Korean. It's a pretty neat tool and though I think it is mainly intended for technical documents, manuals and patents, I actually used it to scan through a couple of Japanese news articles quickly. You can have the tool translate the whole thing for you (of course it's not perfect, but good enough if you are in a hurry) or put it into "editor" mode. It will then put up the original text with the machine translation in parallel aligned segments that you can use to work on your own translation.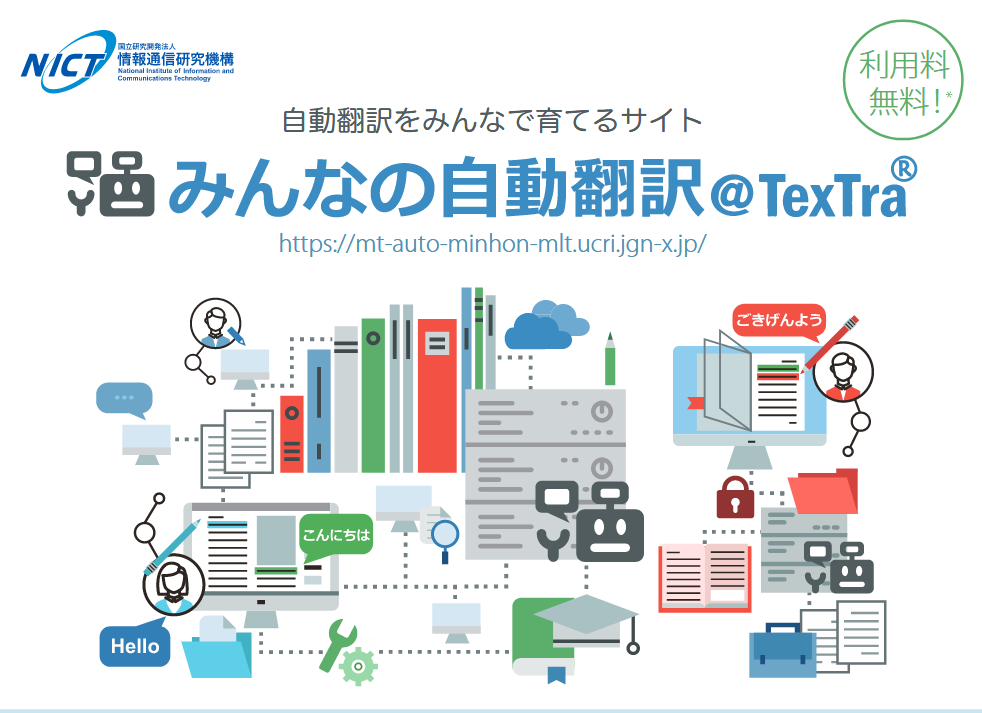 Translation Technology – Training an SMT Engine and Human Evaluation of MT
In this week's lab we learned how to train a statistical machine translation tool (specifically Kantan MT) under the guidance of Dr. Dorothy Kenny, who also gave this week's lecture on Human Evaluation of MT. Kantan MT doesn't seem so difficult to use. However, if too many people use it at the same time – it gets real slow or sometimes doesn't work at all. While the Kantan MT engine was taking its time loading, Dr Kenny took the opportunity to introduce us to the terms recall and precision: two measures used to evaluate MT. I still get these two mixed up. From Wikipedia: "precision is the fraction of relevant instances among the retrieved instances, while recall is the fraction of relevant instances that have been retrieved over the total amount of relevant instances."
The lecture was basically about the various methods that can be employed to manually evaluate an MT tool's effectiveness, and the problems associated with each method. An interesting example that came up is how Amazon rates MT on its website – if the product sells, then the MT is good enough, if the product doesn't sell, it isn't. Next time I believe we will be looking at automatic evaluation of machine translation. Anyway, I like Dr. Kenny's more enthusiastic teaching style and am glad she is in charge of this part of the course.
This week's reading includes:
A User-Based Usability Assessment of Raw Machine Translated Technical Instructions by Doherty & O'Brien
"How to evaluate Machine Translation" by J.S. White in Computers and Translation: A translator's guide
edited by Harold Somers.
Chapter 8 ("Evaluation") of Philipp Koehn's Statistical Machine Translation
(surprisingly readable if you skip over all the equations).
Japanese Economic Translation
This was a feedback lesson on the Abenomics themed assignment we recently completed. We had been asked to translate part of a Japanese government policy document on the "third arrow" (第三の矢) of the Abe administration's economic strategy. The challenge was to translate some of the government's newly coined neologisms, and more regularly used economic collocations. Lesson learned: it is "vital to check comparable and related texts when researching collocations as part of a translation task". We also had to adapt the format and register of our translation so that it matched that of an Irish government policy document. Whereas Japanese government policy documents simply fill the page with text and use very long convoluted sentences, Irish policy documents employ more space between paragraphs, tend to have shorter sentences, use bullet points, and use bold text for section headings. In short, they are purposely designed to be easier to read! Some vocabulary to add to the glossary:
喚起 – stimulus
~ていく – from now on
再生 – "revitalize" may be more diplomatic than "regenerate" when talking about regional revitalization.
好転 – upturn
決断 – resolve
構造問題 – structural issues
不良債権 – nonperforming loans (NPL)
ヒト・モノ・カネ – human resources, goods and capital
を踏まえ – in light of/given
Computerised Terminology: Term Records and Translator-Oriented Terminology
This was our last lecture before we go into the lab to do our terminology work next week. Our teacher told us that the purpose of the lectures had been to give us the vocabulary we will need to talk about our projects when we write up our reports, and also to introduce some sources we should cite when writing our reports to show that we have done the necessary background reading. By now, he said, we should have learned enough and read enough to be able to write a rough draft of our introduction. Four essential areas we must cover in our introductions are:
1. An explanation of the subject field
2. How the concepts are related (this is where we discuss method and cite background reading)
3. Our terminological resources
4. The challenges we faced
However, this is by no means an exhaustive list.
In this lecture the teacher introduced a number of major term banks, and gave us some different examples of how term records are organized. When we compile our term records he suggested we highlight our contextual examples – these are very important. Interestingly, WIPO does not include definitions in its term records – but we still have to in our reports! Descriptive, Normative, and Prescriptive philosophies that underlie the methods used in term records were discussed. It was suggested that in our report, we might discuss WIPO's organization of term records, why they are done that way, what is considered essential and inessential and how that might impact upon a translator. There was also some discussion of terminology management methods and good practice.
This week's reading includes:
"Managing Terminology in Commercial Environments." in the Handbook of Terminology
(HOT!) edited by Steurs and Kockaert
"Do's and Dont's of Terminology Management" by Bowman, Michaud, and Suonuuti" in the Handbook of Terminology Management
edited by Wright & Budin
Recommendations for Terminology Work by COTSOES
Happily I happen to have both books listed above out on loan. So that's my weekend's entertainment sorted.