Predictably there comes a point during a Masters course when you are just too busy to write blog posts. However, now that my first set of big assignments are out of the way, and I have a little breathing space before the next lot, it's time I reviewed my lecture notes. Here's a brief-ish breakdown of what I have been up to over the last 3 weeks.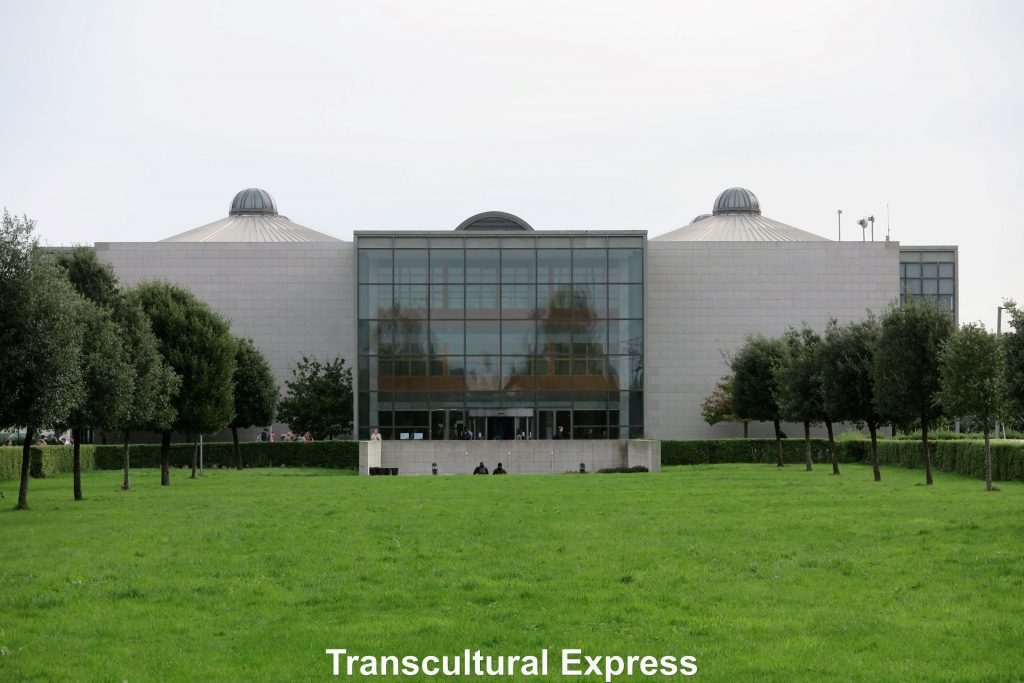 Week 5
This week Hurricane Ophelia's arrival on Irish shores meant that all schools across the country were shut down on Monday – and so we had no Lab session in Translation Technology. For other reasons my Japanese Economic Translation class was also rescheduled for the following week and as I am no longer taking Advanced Japanese I ended up having just two lectures. In the rest of my time I tried to catch up with some terminology reading (long lists of rules mostly) and I downloaded Trados to my laptop so that I can familiarize myself with its workings in the comfort of my own home. If you download the free 30 day trial version of Trados, it comes with some video tutorials and PDF manuals that do make things a little easier. The first thing you learn for example, is the layout of the Trados screen so you can more easily navigate your way around it. It seems like a fairly obvious thing to start with, so I wonder why we didn't start with that in our first Lab!
Week 6
This week I had a mini-meltdown. I was already feeling a tad disenchanted with the amount of reading required for Terminology. We have a big long list of books to get through, they are not a lot of fun to read, and without a clear idea of what specifically I should be looking out for, I feel like I must be wasting time a lot of time wading through irrelevant material. And then my proposed term for the WIPO patent project was rejected.
To recap on that project: we were supposed to find terms that are in common use in both English and our chosen language (Japanese in my case) that have also NOT been recorded on the WIPO Pearl database. And we are supposed to find these terms in patents within one technical subject field. I don't know anything about any of the optional subject fields and honestly find patents hard to understand in English let alone Japanese. So I wasn't surprised my term was rejected (my term was "too narrow" apparently), but I had no idea how to proceed. And this project is worth 100% of the credits for this (compulsory) module. After desperately going through patents for a few hours, I had my meltdown – something along the lines of: I'm going to fail this course! – why did I come here? – I should have gone to SOAS and studied Japanese Literature! – how am I expected to do this? – I'm not from a technical background! – I can't do this! – It's impossible! – I want to go home! – blub blub blub etc.
And then my genius wife made a suggestion. It was a suggestion so simple, and in a way so obvious, that it was really quite brilliant. And within her suggested area of audio-visual equipment (with which I am quite familiar), I could find quite a few specialized terms in common use that have not yet been recorded on Pearl. Good news is WIPO accepted my second proposal a couple of days ago (hurray!), so I don't have to go home yet. If you want to know what my exact subject field is though… watch this space.
Week 7
Week 7 is "reading week". We get a week off from lectures during which I suppose we are meant to do heaps of reading. I didn't do any. I was too busy finishing off my Trados assignment – editing weather forecasts to make them Translation Memory friendly, and then writing a kind of Controlled Language guide for forecasters. I finished the assignment on time but I'm not too confident about my report, as I found I had to edit and translate all of the forecasts (over 30 of them) to get decent results, and I heard later from some of my co-students that they only needed to do a portion of them. Still I am now an expert in Japanese meteorological terminology, so there is that.
I also had an Economics translation assignment that took a couple of days to complete. It was a Japanese government policy document on the "3rd arrow" of Abenomics. I found it quite difficult to translate because it was basically a pile of badly organized waffle without a single concrete policy in it. Which raises an interesting question: should I translate it so that the meaning is more clearly written and better organized, or should I translate it so that it better reflects the quality of the original source text? I opted for the former because I didn't want to look like an idiot, and I think I came up with some neat translations for some tricky bits, particularly the katakana usages, and the phrase 民間の力を引き出す (which I was actually dreaming about at one point). We'll see what my teacher thinks about that though.
This week I also took three days off and went down to Kilkenny (lovely little town) to celebrate my wife's birthday. During the trip I forgot all about the course, enjoyed sightseeing, traditional music, and Smithwicks beer – and came back fully refreshed and ready to crack on with week 8.
Lecture Notes
Japanese Economic Translation
Lecture 5: Financial terminology and translating katakana
This was a feedback lesson on a mini-assignment we had done to analyze the challenges of translating katakana words in an economic text. Things to watch out for:
Changed forms: eg. デマゴーグ – literally "demagogue" in English may be better translated as "demagoguery" in some contexts,
Changed meaning: メリット – literally "merit" in English, but with a more subjective nuance in English, so perhaps "advantage" is better.
Proper nouns: Basically names – you have to check the spelling.
Specialised technical terminology: リスク (risk)、ゼロ成長 (zero growth?)、コスト (production cost)、スポット (spot rate/spot price) etc.
Lecture 6: Describing graphs and consumption tax
This was another feedback lesson on a mini-assignment we had done on describing an economic graph. In the lesson we were given a text describing the trends shown in a graph and had to translate the heading and first paragraph. I got through it fairly quickly and the teacher seemed pleased with my translation so it suddenly occurred to me, Hey, I might be quite good at this economic translation lark! So that was encouraging.
Some words for the glossary:
反動減 – downturn, recoil, reductaion, reactionary fall
年度 – fiscal year
限定的 - limited, tactical, definitive, determinative
Translation Technology
Week 5 lecture – Approaches to Machine Translation – RBMT & SMT
This week's lecture was with Professor Dorothy Kenny, who always infuses her lessons with a great deal of enthusiasm. The following is from my notes:
Professor Kenny introduced us to two of the main strategies for Machine Translation (MT) (we'll get to know the others later):
* Rule-based Machine Translation (RBMT)
* Statistical Machine Translation (SMT)
RBMT can be further subdivided into the following systems: Direct, Transfer and Interlingual.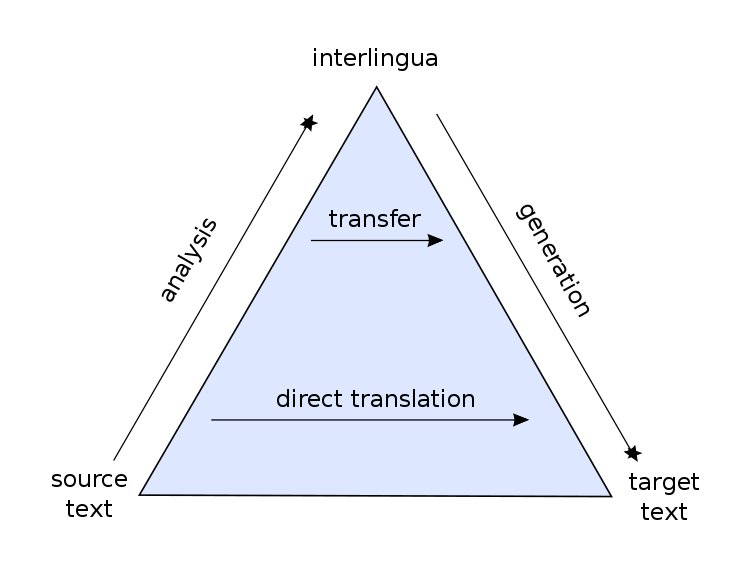 Direct systems work with single language pairs, translate directly between source and target languages, rely heavily on bilingual dictionaries and have a very simple strategy of
1. replace words
2. adjust the words according to the syntax of the target language.
As you can see from the triangle above this system is the least sophisticated.
Transfer-based systems analyse each sentence of a source text (ST) to produce an abstract representation of the ST, which is then converted to an abstract representation of the target language. This is then use to generate a target text.
Interlingual systems transform the source language into an interlingua (a language-independant pivot) from which multiple target languages can be generated. This is the most sophisticated of the three RBMT systems but real interlinguas are difficult to achieve in practice.
"SMT focuses on generating many thousands of hypothetical translations for the input string, and then working out which one of those is most likely." – M. Hearne & A. Way
The second approach to MT is SMT – Statistical Machine Translation. This approach relies on data taken from a corpora of bilingual texts (translations and source language tetxs) to produce a statistical model of translation. The three phases of SMT are:
Training (from a corpus of data)
Tuning (using additional data)
Decoding (selecting the most probable translation)
In our lecture there then followed a rather complex explanation of n-grams; unigrams, bigrams and even trigrams which I will spare you, but if you are really interested then I suggest you read this. At the end of the lecture the good professor presented us with a big list of books (including required reading) and joyfully exhorted us to "Read, read, read!" I confess – I haven't read any of them yet.
Week 6 Lecture: Localization Project Management
This was a guest lecture from Dr. Ana Guerberof on the work of a project manager. She kept the class fairly entertained for two hours, but as I am not particularly interested in pursuing this line of work I did not take many notes. One comment from our regular lecturer Joss Moorkens did catch my attention though, when he related what Dr. Guerberof was saying about time management to the writing of dissertations. Apparently it is a common failing each year that students who submit dissertations allocate enough time to the literature and methodology stages of their work but who then run out of time and don't devote enough attention to analysis. That's something for me to remember next summer. Two hot tips from Dr. Guerberof – download the free GanttProject project scheduling and management app to get yourself organized, and also if you aren't familiar with Excel yet, take a free online course.
Computerised Terminology
Week 5 Lecture – Term identification & extraction
In this lesson we practiced extracting terms from a Wikipedia entry on coffee. From this exercise we could discern some tips for finding terms: look for the unfamiliar, look for descriptions of processes, methods, and equipment, look for frequently occurring words etc.
We then looked at WIPO requirements for term eligibility. There are lot. However, "The key principle for assessing the eligibility of a term is proof of its use by experts within a given subject field in the language in question". This was followed by a description of the process we are to follow with our projects as we build a concept system and term list for WIPO. Ideally we should find an expert in our field to consult with, which would certainly be interesting.
Then we were introduced to Terminotics, which is basically using computer tools to help manage the vast and ever growing mass of terminography. And from this we went on to look at term extractor tools, which we will presumably be using in our projects.
Week 6 Lecture – More termy-wormy stuff + Guest Lecture from a WIPO Fellow
This was a two-parter. First a lecture on term bases, term records, terminology management, term extraction (why its useful for translators) and different methods of term development. That kind of thing.
Then we had a guest lecture from a graduate of the course who did some kind of internship with WIPO in Geneva. Get this – they pay you to stay in Geneva for 3 months while they train you up with special skills (translating patents) which make you super employable. This guy now works as a freelancer partly translating patents, and partly translating other stuff and describes the living he makes as "comfortable". He also gave us some tips for performing searches on WIPO Patentscope which will no doubt come in handy later on.
* Bernard Vauquois' pyramid is a CC BY-SA 3.0 licensed file from Wikimedia.