Just over a month ago my wife and I flew into Dublin from Japan, both of us in a state of great excitement to be starting a new life in Ireland. We had a booked a nice little cottage on AirBNB for two weeks in the hopes that that would be sufficient time to find a more permanent apartment, hopefully at a decent price and in a convenient location. We were however, woefully unprepared for the harsh realities of apartment hunting in the midst of Dublin's ongoing housing crisis. To be fair, both friends and family had warned us our search would be hard and that "prices are higher now than they have ever been," but just how hard it would be and how high those prices were – we could never have imagined. The fact is that there is a chronic shortage of rental properties in Dublin, rents are extremely high, and the whole process of seeking a tenancy is one of the most dispiriting experiences you can ever imagine. In the end it took us one anxious month plus a fair amount of good luck to find our happy home. There was a point though, when we were seriously considering flying back to Japan. Anyone considering moving to Dublin from overseas should be prepared for a long hard search, and a big hit on their savings. Take a look at the latest rental report from property website Daft and you might come to the conclusion that it isn't worth it. Supply is at an all-time low and in the south of Dublin City the average rent is now €1,821 a month – actually higher than in London! Nevertheless, finding an apartment in Dublin isn't impossible and given that we have now sailed through these waters and found safe harbor, here are our tips for finding a rental property in Dublin without losing your mind – or falling prey to the sharks.

In this article you will find the following advice and information:
1. A detailed description of the apartment search process
2. How to choose an area
3. Whether to include agents or independent landlords in your search
4. How to avoid rental scams
5. On trusting your instincts
6. On keeping your cool
7. On being prepared for a long search
1. The Apartment Search Process
Knowing the basics of the Dublin apartment hunting process will save you a lot of time. Here's what you need to know in this section:
– Where to Look
– About Viewing the Property
– Questions to Ask at a Viewing
– How to Apply
* Where to Look
The best place to look for an apartment in Dublin is the property website Daft.ie. All of the local Estate Agents and independent landlords advertise on Daft. When you find a suitable property you can apply either by sending an email through the Daft website or you can call them up directly. Unless the ad specifically says "emails only" it is best to make a telephone call. These property ads get thousands of views, and are flooded with applications, so it is more than likely that no one will reply to an email. However, some ads do insist on email applications. When applying by email, write a short description of your circumstances in your application. You can find online sample letters of introduction with tips for wooing prospective landlords, but the main points are to state who you are, how many people you are applying for, and what your working or financial situation is. Most tenancy agreements are for 12 months, so state clearly that you wish to rent the property for a year and that you may stay on longer. Keep your application brief, but try and sell yourself as an ideal tenant.
* Viewing the Property
When you call or email about a property, ask when they will have a viewing. Very probably there will be a fixed date and time when the property is available to view, and a large number of other people there to view it. You may need to have references and a photo ID ready for the viewing so ask about that also. There will most likely be some competition for this property, so be on time, and be confident. Introduce yourself with a smile and try to make a good impression so that the landlord or the agent remembers your face and your name.
* Questions to Ask at a Viewing
– Check that the tenancy will be registered with the Residential Tenancies Board (RTB). Landlords are legally bound to do so, and in the event of a dispute with your landlord it is the RTB that will resolve it. Having a lease that is properly registered will also act as proof of address if you need to to open an Irish bank account.
– Ask about the initial application process and what documents they will need from you.
– Ask about the initial payment method. You need to be clear on this. Ideally you will make your first payment when you move in and receive both your keys and contract. If you are viewing the property of an independent landlord and they ask for a payment in advance of moving in, then they may be trying to scam you. Watch out for people who suddenly start talking very quickly when they answer this question. You can find out more about avoiding scams below.
– Check that the heating, water and other facilities are properly maintained and check the size and condition of the boiler.
– Ask if the apartment's energy system is run on gas, electricity, or both. You may need to set that up yourself, or the landlord/estate agent may do it for you – so ask about that also.
– Check what furniture, kitchenware and other facilities you can see in the flat are included in the the tenancy.
– Ask where the internet/cable TV connection box is and if it is compatible with Virgin Media. Virgin Media is the primary internet and cable TV provider in Ireland, so more than likely it will be.
– If you intend to drive, ask if there is an assigned parking space. If you intend to cycle, ask if there is a secure place to store your bicycle (bicycle theft is rife in Dublin).
– If you are going through an agency, ask who you should contact if things break down – the agency or directly to the landlord.
– Ask about the proximity to the nearest station or local shopping facilities. Estate agents will almost always lie about this (they can't help themselves) so you should also check this out for yourself later.
– In older buildings you may want to ask if the windows are double glazed or if the intercom works. Quite often in older apartments neither the intercom or doorbell works and the landlord, knowing full well that people are desperate for accommodation, has no intention of fixing it. When I asked one chap, he exclaimed with what seemed like pride, "It hasn't worked in years!"
* How to Apply
If you like a property and wish to apply for it, you will need some or all of the following:
– a reference from your former landlord (we got around this one by saying we have our own property in Japan)
– a professional reference to show you have a stable income
– photo IDs such as a photocopy of your passport or driving license
Very occasionally we were also asked for bank statements dating back 3 months to prove we had the means to pay the rent.
You will also need to have one month's rent ready as a deposit and another month's rent ready to pay up front when you move in.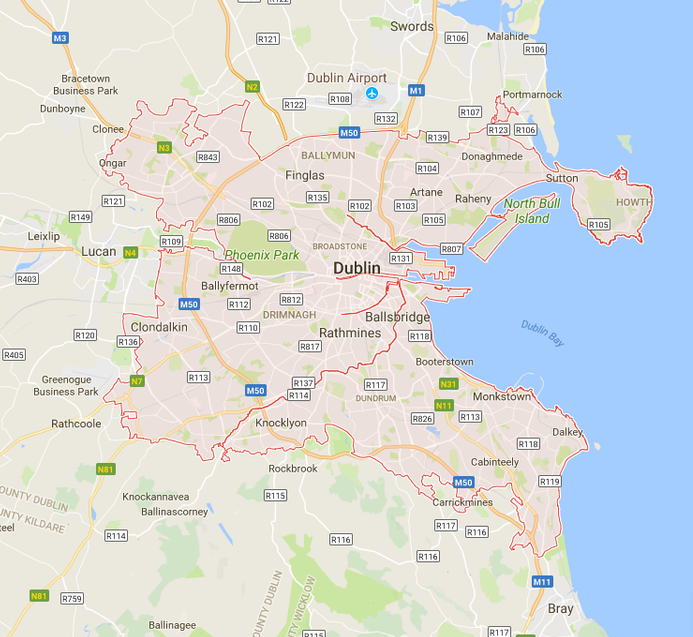 2. How to Choose an Area
Dublin has both good areas and bad areas and quite often the boundaries between them are not so clearly defined. As a stranger to the city, figuring out which areas would be comfortable and safe to live in was a major headache. I did a lot of research on the Boards.ie forum. You can just put in a search on an area and usually someone has asked about it before. Whenever I read something along the lines of "sure there's bit of trouble from time to time, but you'd get that anywhere" I crossed it off the list. There are plenty of areas which are probably "ok" if you have grown up there, but if you are an outsider (and your wife is Japanese), you are going to stick out like a sore thumb and be an easy target for local troublemakers. Another major consideration is how well connected the area is by train, tram, or bus. You should always check on Google Maps just how far an apartment is from the nearest Dart train station, or Luas tramline so that you don't end up stranded in the middle of nowhere. Having viewed properties all over Dublin during our search I am now blessed with a much better idea of its geography, so here's a general overview.
* Generally speaking south Dublin has the more affluent areas, is more popular and therefore has a higher average rent. Areas in south Dublin that are both popular and not too far from the city center are Ranelagh, Rathmines, and Rathgar. Ballsbridge and Sandymount are less convenient but may be ok if the apartment is close enough to a Dart or Luas station.
* The city center has a long-standing problem with heroin addiction, with a particular concentration of lost souls just north of the River Liffey. If you want to live centrally, the best areas are south of the Liffey and closer to Stephen's Green.
* North Dublin has more working class areas, which are less popular and so naturally have lower rent. As I will be studying at Dublin City University from September I was hoping to find somewhere in the northern part of the city. Though a lot of areas in north Dublin are widely considered dodgy, there are plenty of good areas too. Glasnevin, Drumcondra, Fairview, Clontarf, Raheny are all very nice. The problem is that estate agents will often post property ads on Daft that claim a property is in Glasnevin (for example) when it is actually in Cabra, or (dear mother of God) Finglas. You should always check a property address on Google Maps to be sure the location is accurate.
* Further west are Castleknock which lies above Phoenix Park and Chapelizod which lies below it. Both of these areas are fairly pleasant, but not terribly convenient. "Castleknock" also seems to be a vague term used by estate agents to describe a rather huge area, so you need to check just how far west your Castleknock apartment is going to be. Chapelizod seemed the more convenient of the two as it has a lot of regular buses going straight into the city center. An old village nestled under Phoenix Park, Chapelizod also has some quaint rural appeal, but in terms of shopping facilities there is not a lot there. For both these areas you would most certainly need a car.
* Further north are Clongriffin and Portmarnock. Neither of these areas impressed me. There are a lot of housing developments in Clongriffin that were begun during the boom years of the Celtic Tiger, but when the housing market crashed the building stopped. The result is Clongriffin has the feel of a run-down ghost town with very little in the way of shops or other facilities. There was also an impressive amount of graffiti and smashed glass in Clongriffin Station. Portmarnock is an older, well-established village on the seacoast – but the apartments we viewed there were in residential developments outside the village and surrounded by fields. Though the apartments were nice enough in themselves, they felt isolated and inconvenient. Although both these villages have their own Dart stations, services are not as regular as they are for the more major stations.
3. Consider Both Agents and Independent Landlords in Your Search
Some people will tell you to restrict your search to properties listed by well-known estate agents to avoid getting scammed. We actually did this for a while until a local friend told us that he had never rented an apartment in Dublin through an agent. If you broaden your scope to include dealing directly with landlords you will have a much better chance of finding a place. Just be careful and be aware of the tips to avoid a scam that I list below. The other plus point to dealing directly with landlords is that you don't have to deal with the slippery sales talk of an agent. If you don't keep your wits about you, an adept agent can sweet talk you into believing that a) he is the best friend you ever had, and b) that the shambles of an apartment you are viewing is actually your dream home. We encountered a few agents during our search and here is a selective (and subjective) list of the best and the worst. Bear in mind that these impressions are based on having met individual agents who work for these companies.
*Recommended Estate Agents:
– Ray Cooke Auctioneers
Ray Cooke Auctioneers is a well-known and well-established business in Dublin. A young chap called James from this company showed us a nice apartment in Fairview. He was punctual, friendly and straight with us in all his dealings. The initial payment process was the deposit up front to secure the property and one month's rent in advance when we moved in. In the end we didn't take this property because something better came up, but we did get a very favorable impression of both James and his company.
– Baxter Real Estate.
This is a family run business which was established in 1978. Damien Baxter showed us a great apartment in Chapelizod which was listed at a relatively economical monthly rent of €1,450. Damien seemed like a straight-talking guy and didn't shy away from admitting the negative points of the area (a lack of shopping facilities for example) as well as describing its plus points (Phoenix Park right on your doorstep). We found Damien's straightforward, honest approach very refreshing.
– Christies Property Management Partnership (PMP)
Dee from Christies PMP showed us a wonderful property in Raheny that we liked a lot. The landlord didn't pick us because he wanted someone who would stay longer than 12 months. However, I found the company very professional when I spoke to them on the phone and Dee herself was very helpful, friendly, and a pleasure to talk to.
* A Poor Showing:

– Dublin Lettings
We booked a viewing on Francis Street in the city center with this company, but nobody ever turned up. I called them up and spoke to someone barely coherent who told me someone else would call us right back. We are still waiting on that call.
– Sherry FitzGerald
Sherry FitzGerald are a huge company in Dublin with their company name emblazoned on "For Sale" hoardings across the city. I am guessing success has gone to their heads, because they made a very poor impression on me. We booked a viewing at an apartment in Clongriffin one Friday afternoon. While waiting for the agent to arrive I looked the property up on Daft and found that it now stated "Let Agreed". More people began to turn up for the viewing and the first among them refused to believe that the property was already gone or that the agency would neglect to inform us. "No, it can't be," she said, "They just sent me here from their office. It can't be let agreed!" A young fellow from the agency finally turned up, all unshaven and 10 minutes late and showed us the property group-by-group. When it was our turn we asked him why the listing said the property was gone. The expression on his face was exactly that of a rogue caught by his girlfriend with another woman. Feigning surprise, he asked us not to tell the other viewers, and said if we sent him a text on Monday morning he would try to help us find a suitable property. We sent the text, but of course he never replied.
– Noel Kelly Auctioneers
We were shown two properties in Portmarnock by an agent of this company. He turned up 15 minutes late all shiny-shoed and with a palpable sense of entitlement. There was a long line of maybe 20 people for this viewing, all waiting in inclement weather, whom he greeted with facetious grin and a "Sorry I'm late – At least it's not raining." When we were to view the 2nd apartment further down the road he told those who didn't have a car (again with a grin), "You'd better run." The 2nd apartment was in a gated complex though and when our little group of walkers got there we found we were locked out and there was no answer to the intercom. Actually we only got in because one of the residents happened to come out and left the gate open for us. I asked the agent a lot of questions about both properties and found in his responses a barely repressed sense of impatience and derision. The properties themselves were quite nice, but I thought this agent's lack of care, respect and professionalism disgraceful. Naturally we did not apply for either property.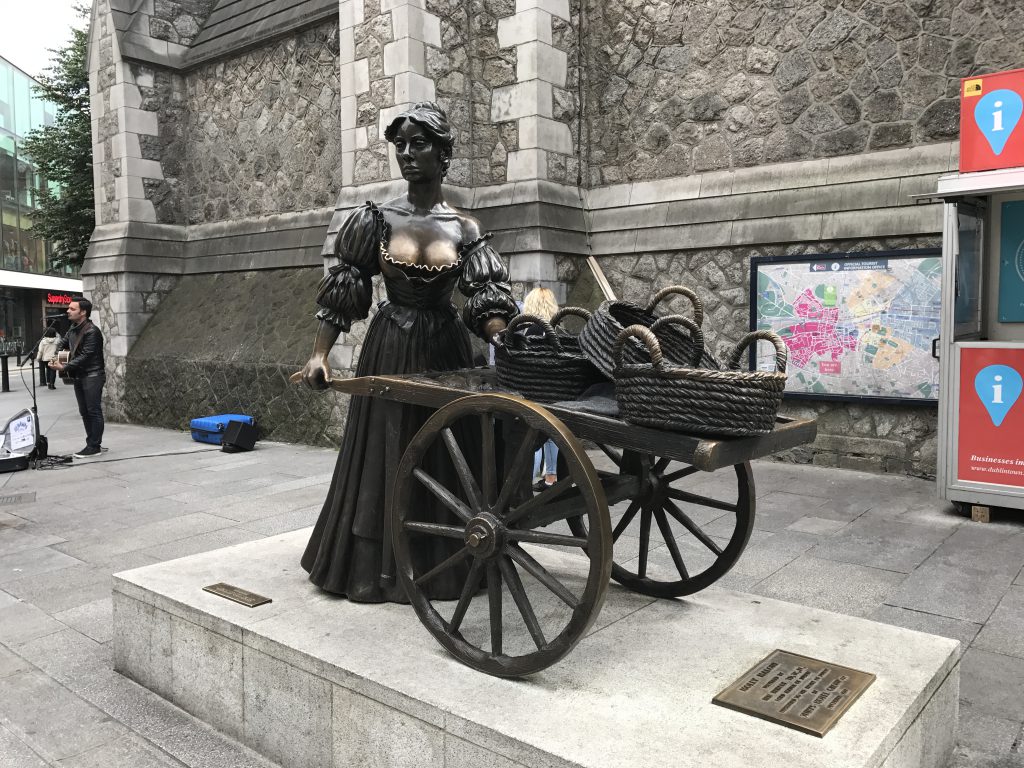 4. How to Avoid Scams
When you are looking for an apartment in Dublin you should know that you are swimming in shark filled waters. Because there is so much demand for housing and so little property available, a lot of people are desperate, and desperate people make bad decisions. Unfortunately, this has attracted the worst kind of unscrupulous predators and there are many terrible stories of good people who have handed over a deposit and received keys to an apartment only to discover that their keys don't work. The Daft property website has a page on scams and internet fraud which lists the most typical scams and their tell-tale signs. The housing charity, Threshold, also have a guide to avoid getting scammed. You should study both these pages.
Tell-tale signs of a scam:
* What looks like a highly desirable property is listed on Daft and the price is immediately reduced from an average or high rent to an absolute bargain. As they say on Daft: "If it looks too good to be true, it probably is". If you see something like this, check the property's listing history at the bottom of the page for erratic rent reductions
* The landlord claims to be living abroad or has some other elaborate excuse why he can't show you the property in person. One guy actually wanted us to view a property via Skype. If you can't view the property in person – walk away.
* You have viewed the property but the landlord wants you to pay both the deposit and one month's rent in advance – before you move into the property or receive either the keys or a lease. You should avoid this situation as there is a good chance this "landlord" will disappear with your money.
Typical advice is:
* Never pay a deposit for a property you haven't viewed.
* Do some research on who you are dealing with. For an independent landlord ask for some identification, find out what they do for a living, and ask for their full contact details. For an estate agent, check them out online and see if they are properly accredited.
* When you get the keys, check that they actually work.
* Don't pay by cash or by electronic funds transfer. A bank draft or a cheque is better. And make sure you get a receipt.
Ideally you won't pay anything until the day you move into the property and you receive both keys and contract. In reality though, most estate agents and some legitimate landlords will ask for the deposit in advance of your moving in as a "security" on the property. I guess they do this to stop the would-be tenant from backing out of the deal at the last moment (if they find another more preferable property for example). Still it doesn't make the would-be tenant feel very secure, does it? If you are certain you are dealing with a properly accredited estate agent then you are probably not going to be scammed. However, if an independent landlord asked me for money up front, I would probably walk away. They might be legitimate, but why take that chance?
5. On Trusting Your Instincts – Our Experience
You are not just choosing a property, you are also choosing the owner of that property or the agent that manages it. You need to pick someone who you can rely on if things go wrong. Trust your instincts about the people you are dealing with when it comes to choosing a home. I ignored my instincts and it caused us a great deal of trouble. Fairly early on in our hunt for an apartment we thought we had found our ideal place: a newly renovated apartment in a nice area of north Dublin, within cycling distance of my university and with easy access to town via the local Dart Station. Shortly after we had applied to move in though, I got the marked impression that the agent, let's call him Schmoe, was not a man to be relied on and that he constantly needed chasing up and pushing if we wanted to get anything done. Because of this I actually considered backing out of the deal. However, I wasn't confident of finding anything better, and with the property newly renovated what could go wrong?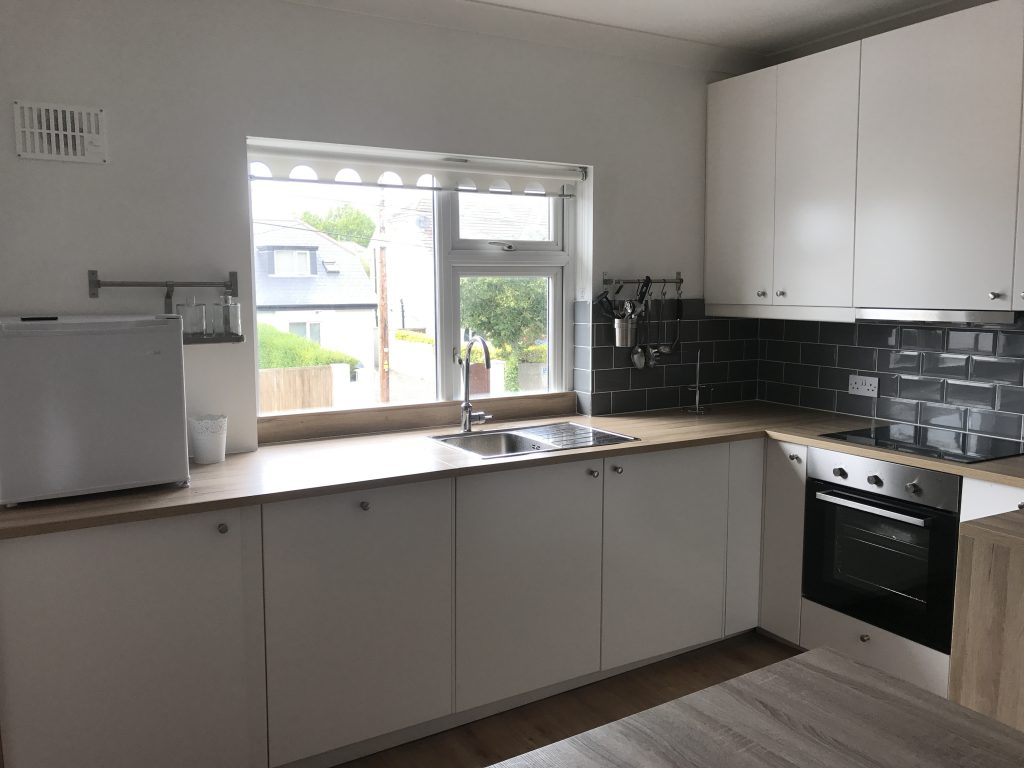 Once we had moved in we discovered the property had been renovated by cowboys, was poorly maintained and had a host of problems both major and minor including (but not limited to) an aged boiler that kept breaking down, an inactive immersion heater, a faulty alarm system, and a broken shower. Nobody could have predicted this, but over the next few days it was clear that Schmoe's main concern, rather than speedily fixing the situation, was to assure us that he was not to blame, that the landlord was not to blame and it was always some other fool's fault. Naturally, we decided to move out. We did get our deposit back, but again Schmoe's parting words to us were, "I'm sorry it didn't work out. But it wasn't my fault."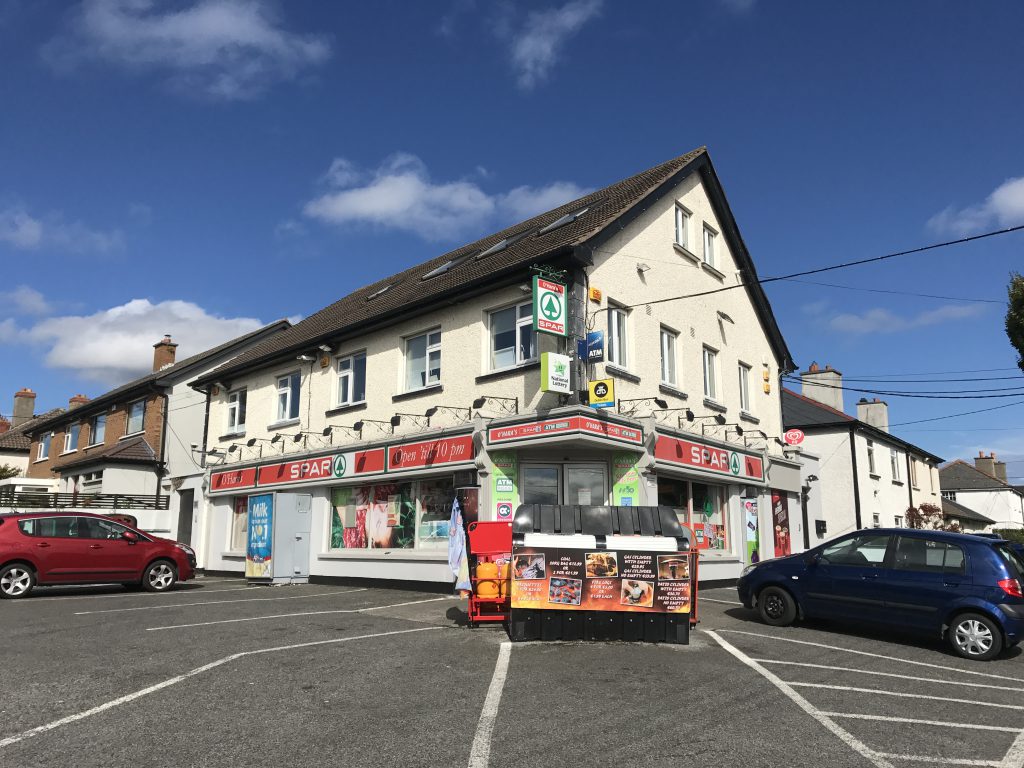 We were very unlucky with that apartment, and Schmoe was right that he himself wasn't to blame, but that doesn't absolve him of responsibility for putting it right. Things do go wrong sometimes, and you need to have someone you can rely on to help you out. I had a bad feeling about Schmoe in our initial dealings, but I chose to ignore it, and ignoring it led me into a sorry saga of shameless incompetence. Lesson learned: trust your instincts about people and don't let your desperation lead you to bad decisions. Which brings me to my next tip…
6. Keep Your Cool
Don't let the madness of the Dublin housing crisis get to you and effect your decision-making. About three weeks into our hunt for an apartment we were starting to feel desperate, and we began to broaden our search to properties that had ridiculously high rents and were in inconvenient areas. Then we took a good hard look at our situation and realized it was madness to throw away our savings on a place where we wouldn't be happy. We took one day off from the flat search and went sightseeing to calm ourselves down. The next day we started searching again but restricted ourselves to suitable areas and realistic rental fees. We gave ourselves another couple of weeks to find somewhere and if we couldn't find anything within that period, then we were resigned to returning to Japan. Oddly enough within the next four days we were offered four different apartments, all of which were decent and the last of which was absolutely perfect and reasonably priced.
7. Be Prepared for a Long Search
The only way you are going to find a good apartment in Dublin is if you keep on patiently searching, and you should be prepared for this to take a long time. We were relatively lucky in that it only took us a month, as we met others who had been searching for 4 months or longer. Towards the end of our search we had been offered 3 different places, and had pretty much decided on one of them, but we still had one more evening viewing to go to. We were tired and almost cancelled it, but thought, what the heck and went along anyway. The apartment turned out to be amazing: spacious, beautifully furnished, in a great location and actually cheaper than the place we were leaving. This apartment was managed by a nice couple on behalf of their son who works overseas, so we didn't have to deal with any go-betweens. On the day we moved in they greeted us with a cheery "Welcome home!" and after explaining how everything worked they repeatedly said, "If you have any trouble, we are only a phone call away". So that's our happy ending, and I hope you find yours too. There are still some good apartments and good landlords in Dublin, but you do need to be prepared for a long hard slog to find them.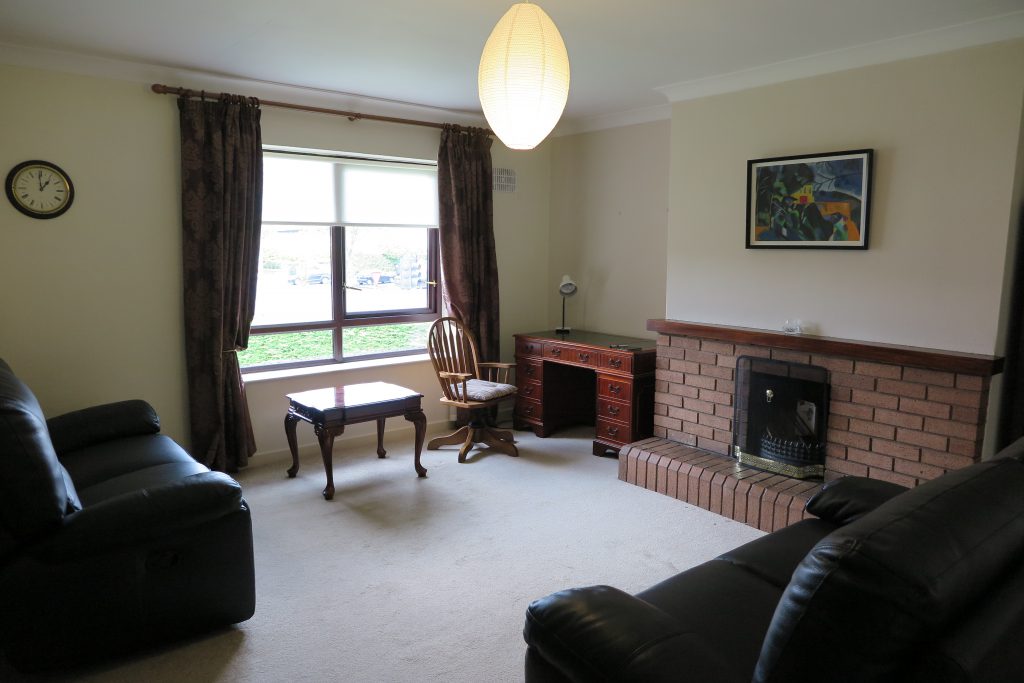 Useful Links:
When we first flew into Dublin we stayed in a lovely little cottage in the heart of the city. You can book that cottage on AirBNB.
The website Dublinhousehunting.com has a list of "best estate agencies" as well as a guide to the best areas in Dublin and those that you should avoid.
This tongue-in-cheek article in the Independent offers some light relief (while being largely accurate): Nine things you need to do to successfully find a room to rent in Dublin